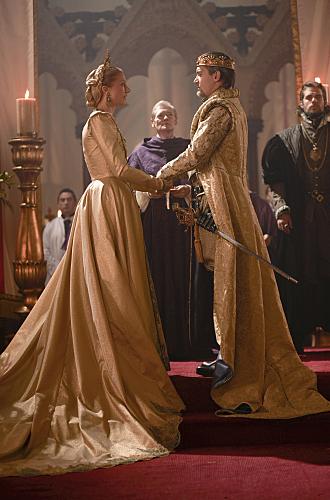 The King was in a rough state this week, wasn't he? He's all grouchy because the war with France just can't happen fast enough and, to top it off, that nasty leg wound is acting up again.
Plus, he had a very un-exciting wedding to Catherine Parr. They mumbled their vows and looked at each other without the passion one would hope newlyweds would share. Actually, their expressions were sort of like that of celebrities at this year's Cannes Film Festival upon seeing Lindsay Lohan stumbling onto the scene: Unimpressed and quasi-annoyed.
They're like, "Eh... let's just get this over with already."
The King looks like he needs a warm bottle and a good nap. He appears totally bored with his life and seems to barely be able to muster enough energy to keep his eyes open. We saw many physical issues manifesting themselves within his highness: coughing, wheezing, hacking, limping, bleeding, groaning, sneering, speaking in a husky whisper, and endless rolling of his eyes.
To Read More Click Here.