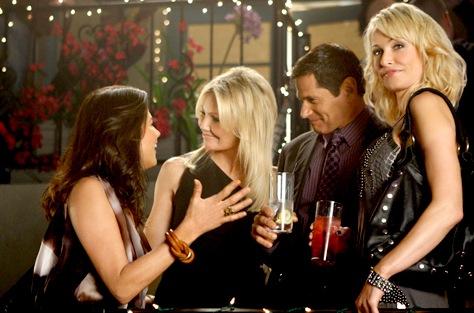 Four tenants from the original Melrose Place reunited last night on the 21st Century version of the show that made them stars. Sadly, with the casting of Jessica Lucas on a new pilot, it looks as though our beloved Melrose 2.0 may soon be canceled.
At the very least, it's going out with a bang. In "Santa Fe," Amanda continued to manipulate info out of people while Michael was even more of a sleaze than ususal. Holla!
Ain't No Party Like a Melrose Party: 'Cause a Melrose party don't stop! Not with Amanda handing out booze and the evil Dr. Mancini there to blackmail interns for sex.
Jane comes to complain about the noise and Jo also shows up - really for no reason except to spill some stuff about Amanda's past embezzling, but hey, we'll accept that.
As for Dr. Mancini, who's evidently the "top cardiologist in the country," he tells Lauren he booked a room at the Waverly Hotel and wants to make good on the transaction.
He tells her to meet him there later OR ELSE.
To Read More Click here.