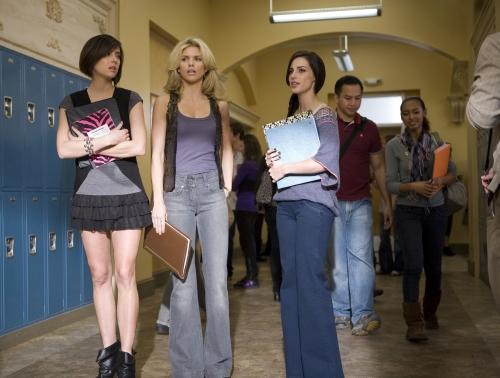 Despite the much-hyped lesbian kiss between Gia and Adrianna, we have to say, this week's episode of 90210 definitely belonged to Naomi and Liam.
During "Clark Raving Mad," Liam discovered his step father was cheating on his mother, and after sucker punching the guy, he ended up moving in with Naomi. Naomi, meanwhile, had her own intense storyline as she decided to stand up to the new Blaze faculty advisor, Mr. Cannon, for no apparent reason.
After tearing him a new one, Mr. Cannon rightfully kicked her off the Blaze, only to have Naomi try and lead a hilarious revolt with one of the most incoherent rallying speeches to her troops. Anna Lynne really has turned Naomi into one of the funniest, most likable and relatable characters on the show.
We definitely like how they managed to bring the couples' story lines together at the end (plus their hot make out scene in the beginning!), with the tying theme of their mothers being walked over. Can't wait to see where the sexual harassment war takes them.
To Read More Click here.