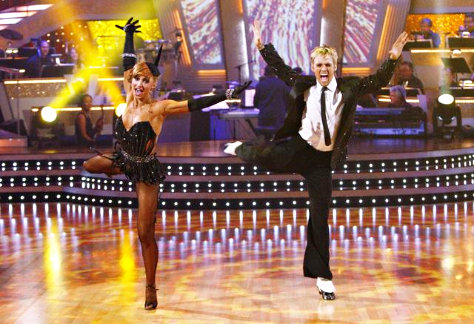 One more couple hit the road on Dancing with the Stars as four pairs secured spots in the semifinals. Plus, DanceCenter returned, and Susan Boyle and Michael Buble performed. Which pair got the boot? Find out below!
Our favorite dancing robots get the encore slot - in front of Hef and some bunnies! Len defends the choice of Joanna and Derek as opposed to the perfect-30-scoring Mya and Dmitry because J. and D. produced a paso with lots of content and gave us a glimpse of how Dancing would look in Season 50. We can only hope, Len, we can only hope.
First safe couple: Joanna and Derek
Because going through everyone's dances twice already isn't enough, we get another recap of Monday. Aaron likes the 9s he got for his '90s samba, Mya feels like pigs are flying, Donny thinks his '80s paso entertained and scared everyone, Derek and Joanna say that was the worst they've ever danced the quickstep and Kelly opens the waterworks. Girl hugs it out with Louis and whispers through tears, "I love you, Louis van Amstel," after their foxtrot. All together now: Aww!
Next, we get a primo performance from Michael Buble, accompanied by Jonathan, Anna, Maks and Cheryl. It's always nice to hear people who can carry a tune live. Ahem, Taylor Swift.
Second safe couple: Mya and Dmitry
DanceCenter
It's back! This time, Kenny Mayne, Jerry Rice and Len get an assist from backstage correspondent Stacy Keibler. I still maintain that Ty Murray should get in on this.
First up: Joanna, whose chest size will not be revealed. "Don't be rude." After some banter over her being Polish and having to polish her steps, Kenny rips her on her weird laugh... which reminds Jerry of that of a seal. Win. As for Derek, Kenny does not approve mostly because of this. "I taught him that," Jerry deadpans.
Next up is Donny, whose Dancing credentials includes not fainting on TV. His age? Timeless. Truth. Len's still bitter about being passed over as the object of Donny's affection, but Donny tells Stacy backstage that it's all platonic between him and Bruno, who's conveniently staring into his eyes.
Aaron, they say, is a crybaby. Kenny gives Len a hard time for making A.C. weep, but the old curmudgeon insists he was just being emotional. The kid also has the lowest pain threshold of any man he's ever seen, Kenny says. Cue montage of Aaron wincing and wimping. "He as fragile as a snowflake resting on a lily," Jerry says.
Kelly is the daughter of the Prince of Darkness, ergo she's Satan's daughter, Kenny deduces. Len calls her an enigma, but Kenny calls her out on her trucker-like mouth hiding behind a sweet British accent. Everything does sound better with a British accent.
And finally we get to Dmitry, er, Mya. Way to play up the "ringer" talk. (Dmitry is hot, may or may not speak English and may or may not be a soap star, FYI.) Mya's a dance machine and has anger issues (well, she did knee Dmitry in the family jewels) and Len once again voices his disapproval of her gimmicks, like dusting the judges' table. "She can dust at my house any time," Jerry quips.
The three stooges then whip out their newest piece of technology, a miniature ballroom with mini people. And they determine Mya wins. So we're done for the season then?
Macy's Stars of Dance: Design-a-Dance
Sabrina Bryan and Mark Ballas: Paso Doble
Is anyone surprised Mark got the vote here? Or that they're dancing the paso doble - the source of their perfect 30 in Season 5? They're in tiger costumes because duh - they're dancing to "Eye of the Tiger." Very subtle. The dance itself is stellar. They look like they never left the floor. It's spunky, bold and aggressive. There's some weird contortionist, kama sutra-esque twist at the end that makes me forget for a second that these two are no longer dating. Still, get a room, kids.
Third safe couple: Donny and Kym
Susan Boyle hits the stage next for her prime-time U.S. debut performance of "I Dreamed a Dream." I'm just glad she's finally onstage so she can stop her animatronic waving to the camera every time they cut to commercial. Personally, I was never riveted by SuBo's revelatory performance this year, but that's because I feel nothing, but this performance is quite lovely and beautifully restrained.
Now we're down to business with Aaron and Karina and Kelly and Louis left. And it will be Aaron and Karina leaving - to a sea of boos. Aaron may not have been the most personable star left, but he's definitely one of the better dancers, so just for that, it's unfortunate to see him go. But after last week's debacle, it was pretty much set in stone he would say buh-bye this week. He says he's grown so much on the show and has learned a lot of life lessons. Cryptic much? The Berge interrupts (and thus prevents Karina from giving any remarks. Nice.) to tell us that Len requested earlier to say a few words should this be the outcome. And so Aaron's surrogate father tells him his dedication was fantastic and calls him an inspiration to young people that anything is possible. "If you were my son, I would be so proud of you." Seriously, adopt him already.