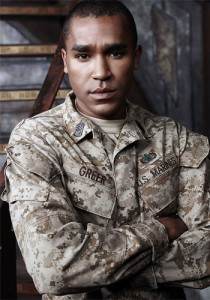 So wonder how in God's name did Park end up taming Greer in the closing montage of "Life"? Well, this week's webisode of SGU: Kino might shed a little light on the most unexpected pairing on SGU so far.
Greer walks down a corridor and hears Park crying and talking to herself about shutting up and doing the equations. He motions for the Kino to stay put, but it zooms in and catches the sparks between Greer and Park as Greer asks if Dr. Rush is harassing her and if she wants Greer to bust Rush up for her. The two share a little flirtatious laugh and that's it for this week.
Epic failure. Give me back my two minutes.
When will we see more about Rush's crazy reasoning behind his crazy schemes? That would be a good Kino story since Eli and Young are spying on him.
Or how about Camile and her slow descent (ascension?) into being the leader of a third faction of the ship?
While both of these characters are my favorites, I feel that they were sadly underused in this clip and it could have been longer. Was it even two minutes?