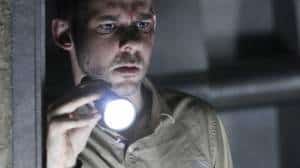 FlashForward has been on an upward swing the last few episodes, so if you missed last week's episode, "Goodbye Yellow Brick Road," read a recap here.
This week's installment, "Collision Course," opens in Palo Alto, California at NLAP, two days before the blackout. Simon and Lloyd are discussing the timing for their experiment when Simon notices Lloyd is wearing the same jacket he wore when the ground was broken for their particle accelerator. Lloyd insists it's just an accident, but Simon tells him "There are no accidents." Simon receives a phone call from his mother, in which she tells him that his father has died; he'll be home immediately. Two days later, Lloyd is preparing for the final countdown to his experiment. At the prescribed time, the accelerator fires two atoms into each other, recreating the Big Bang. The camera zooms out to reveal a wave of energy emanating from California, and spreading across the globe. Oddly, simultaneously, there is a second wave spreading from Asia. The two waves collide, and the blackout hits. Everyone at NLAP collapses, with the journalist hitting her head on a desk. When they wake up, Lloyd sees the journalist, turns her over, and finds her dead.
To Read More Click Here.