Some of you love 'em and others hate 'em, so for the first group only...you'll definitely want to check out these spoilers from E!Online regarding what's to come for the remainder of this season of Entourage: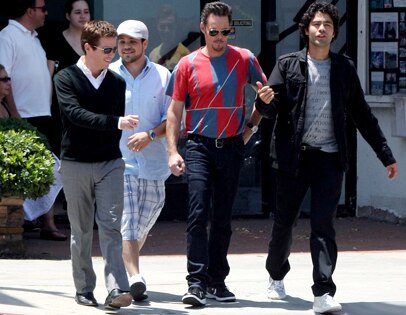 Camille in Paris: Tom Brady and Mark Wahlberg were great on the show this week. Are there more guest stars to come?
Absolutely! How can anyone forget that Zac Efron is still on the way, as well as superstar Matt Damon, who Kevin Dillon says, "Comes and just kills it. He's so funny. Plus, LeBron James - it might be our best season for guests." Aaron Sorkin is scheduled to guest star, too, so it looks like Andrew Klein (Gary Cole) may finally make the deal we've been hearing about all season.
Jane in Prescott, Ariz.: Are either of the Chase brothers going to get some real love this season?
Don't hold your breath! Kevin tells us that, "Drama's love is the art. He's all about doing good movies. It's not as much fun if there's girls involved for Drama. He's gotta be obsessed with anything that's related to his fame." Boo! As for Vince, Adrian Grenier simply smiles and says, "Vince is going to have a lot of love this season. That's his primary function this year." Unfortunately, we've already seen the kind of "love" he's referring to, and it seems to be of the one-night-stand variety.
Read the rest: Entourage Delivers Matt Damon, Zac Efron...and a Desperate Housewives Crossover?