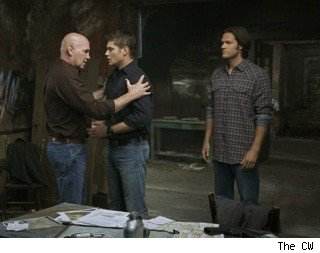 I'm freaking dying of laughter over here. During the Supernatural Comic Con panel, Jensen Ackles was asked what would be different with Dean in season 6 and a fan shouted out he'll tuck in his shirt!" (it's the third video here). Ackles and Kripke ran with the joke, with the audience laughing along.
Now, lo and behold, the first promo photo for season 6 has been released (courtesy of big Supernatural fan Mo Ryan) and, what do you know! Dean's shirt is TUCKED IN. And it looks so weird. Untuck your shirt, Dean, then hug your grandfather and let's get back to business. These demons aren't going to kill themselves.
To Read More Click Here.