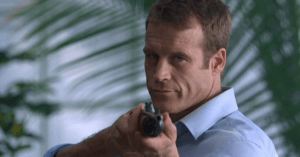 If you take the action hero violence of 24 and mix in a little of the sarcastic humor of House, you've basically got Human Target, FOX's new show which is set to premiere on Sunday, January 17, at 8/7c. The show, which stars Mark Valley (Fringe) as Christopher Chance, the titular Human Target, is FOX's attempt to mix together some of its more successful elements into one big megashow. And they kinda, sorta pull it off. Barely.
The thing you need to know when going into Human Target is that it is not deep television. In the pilot episode, there are no real gray characters. There are good guys and bad guys, and not much else. There's little depth and even less characterization, but you don't care because you're having such a damn good time.
First, I've got to mention the absolutely fantastic cast. As I said before, Mark Valley, most known by television viewers as Olivia's morally ambiguous boyfriend John Scott on Fringe, plays the main character, Christopher Chance. He's the perfect action hero; he carries out all his jobs with a self-assured charisma that simply seems infallible, and sometimes annoying to his clients (that is, until he starts saving their lives). In one scene, he meets a Chinese investor who wishes to know how Chance recognized his Japanese dialect. Chance tells him a lengthy story (all in Japanese) about how he came to speak Japanese, though he later tells his client that he completely made the entire story up. He's also slightly unpredictable, keeping both the viewers and his business partner on their toes.
To Read More Click Here.