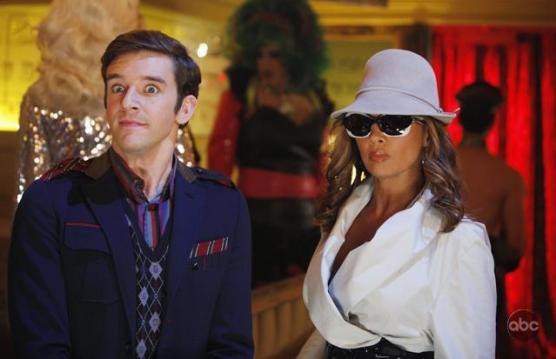 One cannot help but feel sad about the impending doom of Ugly Betty. Especially since this show gives Wednesday nights something fun, edgy, and different to watch.
Last night, on "Chica and the Man," Wilhelmina's impersonator stole the show - then Wilhelmina herself stole it right back.
How awesome was it that no one except Betty's weird cat loving followers could tell that Wilheldiva Hater was a drag queen? Even Daniel was fooled by this beautiful man. I loved the ending when Wilhelmina got on stage and performed Man Eater. It showed that beneath her rough and cold exterior somewhere deep deep down inside, she really is not that bad of a person.
It was nice to see that Amanda got a promotion as well. Although, I kinda like that she is the receptionist. Mostly, receptionist get portrayed by people who are dumb and cute - and Amanda is probably one of the smarter people on the show.
Speaking of Amanda, who knew Daniel and Amanda were back in the sack? I like their term for it too - "fun buddies". In fact, who wouldn't want a "fun buddy"? Everybody needs somebody sometimes - but one can't help but see past Daniel's quick impulses.
To Read More Click here.