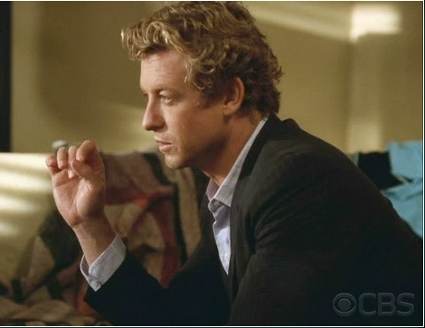 The other night on The Mentalist, "Red Badge", we find out more background on how Lisbon (Robin Tunney) and Agent Bosco know each other. When a paroled pedophile named McTeer is found murdered, Patrick Jane (Simon Baker) and the CBI team find out that he was originally caught by Lisbon when she was a San Francisco police department inspector-and Bosco was her boss. Lisbon was written up as a hero in the papers, with quotes of praise from Bosco himself.
The hero turns to possible villain, however, when Lisbon's print is found on the murder weapon. CBI boss Minnelli takes Lisbon off the McTeer case and gives it to Bosco. Though she initially denies involvement, Lisbon subsequently confesses to Jane that she actually has no recollection of Tuesday-the night the murder took place. After a disturbing meeting with the father of one of McTeer's child victims, a rattled Lisbon agrees to take a polygraph over the McTeer murder.
Just as Lisbon's about to testify in the trial of an embezzler/murderer she took down, Minnelli arrives to tell her she's failed the polygraph test and has to turn in her badge and gun. Now visibly shaken, Lisbon goes to the department shrink she was avoiding in the last episode. He tells her he can help her relax and do better on the next polygraph. Lisbon then confesses that her father had alcoholic blackouts and did terrible things that he didn't remember. She's worried the same thing has happened to her, and that she might have actually committed the murder. The psychiatrist tells her that he can't help her until her memory comes back. Angry and upset, Lisbon goes to Jane.
To Read More Click Here.