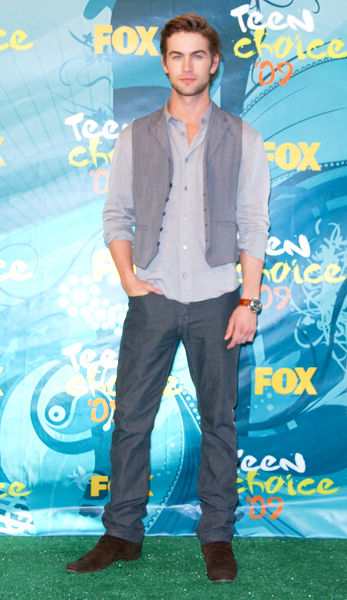 Though busy shooting for The CW drama series "Gossip Girl", Chace Crawford has been preparing for his upcoming film "Footloose", which will begin shooting soon. In an interview with MTV during 2009 Teen Choice Awards, the 24-year-old actor revealed that he has joined a dance training, "I'm training right now in New York, and it's pretty intense."
Sharing on his preparation for the remake of Kevin Bacon's 1984 musical film, the TV star compared his dance skills to Willard, a character in the original movie who doesn't know how to dance until Ren teaches him. "I'm more like [Chris Penn's character] Willard, trying to learn the dances at this point," he said. "I'm getting muscles that I didn't even know were there worked out."
During the interview, Crawford, who called the film as "a modern adaptation", also talked about the script of the drama musical. "['Erin Brockovich' writer] Susannah Grant adapted it, and she's amazing. It's gonna be different, but they've also got nice moments woven in there from the original; some of the other stuff is cut out," he said on the movie's script.
The "The Haunting of Molly Hartley" actor additionally stated that he will not recreate Bacon's iconic performance in the original film. "I want to do something different. No one wants to imitate. It's gonna be one of those things," he insisted. He also claimed that Bacon has supported his idea, saying "I'm just thrilled that he's supporting it." However, when asked whether the original star will appear as a cameo in the remake, Crawford refused to confirm but teased, "You never know. We'll see."
The original "Footloose" centers on Ren McCormack who moves from Chicago to a small town, where dancing and rock music are banned. Ren then proceeds to shake everything up when he and his classmates want to have a senior prom with music and dancing. In new "Footloose", Chace Crawford will star opposite Julianne Hough, a former contestant of "Dancing with the Stars". Directed by Kevin Ortega, the remake is scheduled to hit U.S. theaters on June 18, 2010.