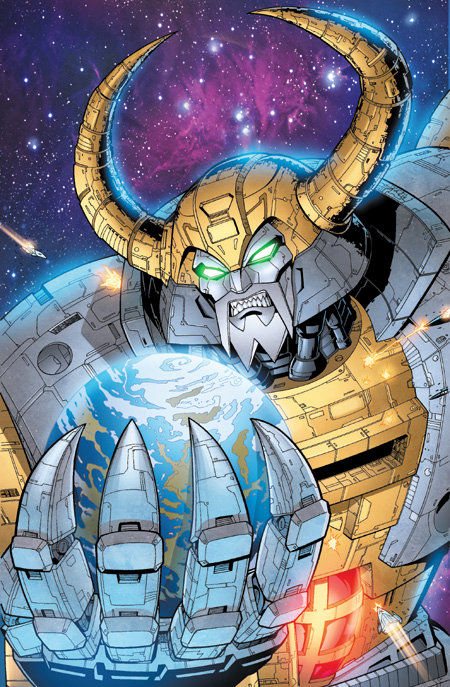 Giant transforming robot, Unicron, has been voted as the #1 Transformers audience most like to see in "Transformers 3", a poll by IGN revealed, but producer Lorenzo di Bonaventura is unsure whether the character will be getting screen time in the "Transformers: Revenge of the Fallen" follow-up. The filmmaker has shared his worries on Unicron during the London press junket for "G.I. Joe: Rise of Cobra" on Wednesday, July 22.
"Unicron worries me because it's so big that it dwarfs emotion. It's so hard, because when you're working to that scale, it sort of becomes outside any kind of human reality you have," di Bonaventura responded when asked by IGN about the likelihood of the baddie appearing in the third movie. "It's obviously a great character, and one that we're definitely going to talk about, but for me personally - and I'm not the only vote here - that one scares me."
"Because of its size, it becomes sort of impersonal when it gets to that scale. I remember seeing the second Fantastic Four and Galactcus, and suddenly I was in another world and it took it away from the human characters. One of the tricky parts about Transformers is you've got these five-to-six foot things called humans, then you've got the 32-foot Transformers, then you come to Devastator and you've got 125-feet."
"You become increasingly small on a physical level, and I think that's true on a story level. I think if you go to Unicron, you're going to end up sacrificing your human characters. And for me that worries me because I like the human characters." He then added, "Don't get me wrong - Unicron is an obvious and great character, I just worry about it from the experience of the movie."
As for the character he would like to see in the next film, he immediately pointed out on Mini-Cons. "I love the Mini-Cons actually - I think they're very cool. I love the lore - every time we approach one of these movies, we go back and read everything we can about it - that's how we came across the Fallen," he said.
Elaborating more on his answer, he stated, "I thought that was such an interesting idea - that there's sort of a Judas within the mythology. For me, I like the surprise of that. Each time I sit down to give my vote, I like to re-read it and discover what I think. But I think the Mini-Cons are really cool."
"Transformers 3" is reportedly aimed for Independence Day holiday in 2011. Earlier, reports came out that director Michael Bay is likely to drop his involvement in the third film. However, he was quick to deny by posting a message at his Shoot for the Edit forums, "Hah, love press how they spin. Never said it - just wanted a vacation is more to the point. And no I don't read the good or the bad reviews."