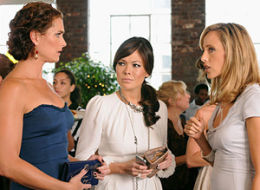 It's no wonder nobody watches Lipstick Jungle. The show changes timeslots every 5 minutes!
NBC has announced even more scheduling changes involving the program; beginning December 5th the program will be airing an hour earlier, at 9PM on Fridays. Dateline will fill in the 10PM timeslot.
Also moving will be current 9 PM program Crusoe - being shifted to Saturdays (worse than Fridays?) at 8PM beginning December 6th. Additional episodes of Crusoe have also yet to be ordered by NBC.
Source: TV Week