From BuzzFocus:
Hey Entourage fans, we're about halfway through the painful seven day gap between new episodes. And, like you, I can wait for the sixth season's second episode, "Amongst Friends."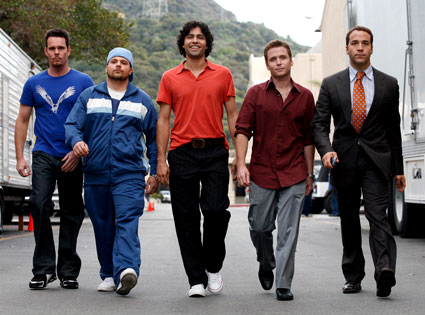 Last Sunday's premiere episode was great and the focus now shifts to the red carpet premiere of Vince's new movie, "Gatsby," directed by Martin Scorsese. I'm curious to see if the writers are going to continue to push the theme of maturity and independence or if that was merely a short-lived distraction.
The writers seem to be telegraphing this rekindling of Sloan and E, so I'm betting that there will soon be a wrench in that plan. Perhaps an even hotter girl will come along, taking E's focus? Or will it be his devotion to his career like it was last time. Don't expect these two to just easily ride off into the sunset. And something 'interesting' has to happen between Turtle and Jamie-Lynn as well; everything won't just be hunkydory the entire 12 episodes. My guess is that adversity (relatively speaking) will bring the boys back together in some way and make them realize how important they are to each other.
Check out the teaser preview of Amongst Friends below and tune in this Sunday on HBO: