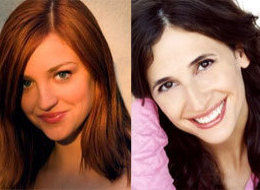 With the departure of Amy Poehler, Saturday Night Live is down to 2 female cast members - Kristen Wiig (awesome!) and Casey Wilson (meh).
Well, was down to 2. They've hired 2 new (and much needed) female cast members!
1. Abby Elliott (left)- 21 years old, daughter of comedian Chris Elliott. Here's a clip reel of her work (pretty awesome Kirsten Dunst impersonation...). She's also voiced a character on King of the Hill and was a member of The Midnight Show at the UCB Theatre in Los Angeles.
2. Michaela Watkins (right) - Has appeared on The New Adventures of Old Christine and is a member of The Groundlings company in Los Angeles.