Friday Night Lights - Eric & Tami Taylor
Eric: You know who I miss? I miss the coach's wife.
Tami: You know who I can't wait to meet? The principal's husband.
Eric: Touche.
The Taylors represent pretty much my favorite married couple currently gracing our TV screens. FNL manages to portray one of the most honest and realistic marriages I have ever seen on television. Things aren't always necessarily perfect for the two, but there's never any doubt that the two will love and support each other through everything and that ultimately things will work out. I also love the balance of power in this modern marriage; we really believe that both Eric and Tami have equal say in all of the happenings in the Taylor household.
ER - Doug & Carol
Carol: I can't remember a time when I didn't love him.
I am sure that there have been nurse/doctor love stories on TV before ER and I am sure that there have been ones after (like Turk and Carla on Scrubs). However, never was there a more perfect medical coupling than these two and never was ER better than during the Carol/Doug seasons. What can I say? The Clooney brought magic to the small screen and he had perfect, believable chemistry with Julianna Marguiles.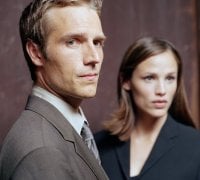 Alias - Sydney & Vaughn
Vaughn - When you're at your absolute lowest, at your most depressed, just remember that you can always..you know. You got my number.
She was a double agent for the CIA (and SD-6). He was her handler. Oh yeah, and they were both smokin' hot. Throw in some quiet spy/handler rendezvouses in private places and we were just holding our breaths until the two finally jumped each other. Seriously, the chemistry between Sydney and Vaughn before they officially "got together" fueled the first season and a half of Alias like no show I have ever seen before. And once the two did get together and experienced their fair share of problems; there was never a time when we weren't rooting for the two to work things out, nor did we ever doubt that their love would prevail.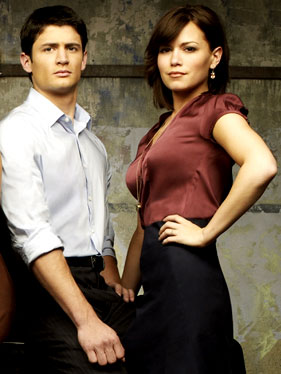 One Tree Hill - Nathan & Haley
Haley: Always..
Nathan: and Forever.
Lucas and Peyton who? Far and wide my favorite coupling of One Tree Hill has turned out to be the pairing of Nathan and Haley, or Naley. Nobody ever said that getting married in high school would be easy (or realistic), but One Tree Hill has turned this unlikely high-school marriage into the most convincing and absolute best pairing of the show. Nathan and Haley are not without their struggles either, but we know these two always believe in each other, and consequently, we believe in them.
Friends (1994) - Ross & Rachel
Ross: You got off the plane.
The iconic couple of Friends (though Monica and Chandler ended up coming awfully close...) who we laughed and cried with through 10 seasons. Through accidental marriages and accidental children, whether the two were dating or were on a break...there was never a doubt how the series would end; after all, Ross and Rachel were each others' lobsters.
Some runners-up: Marshall & Lily (How I Met Your Mother), Felicity & Ben (Felicity), Lorelai & Luke (Gilmore Girls), Ephram & Amy (Everwood), Max & Liz (Roswell)
We also know that there's a ton more...so don't be shy. Share in comments - who do you think are the perfect TV couples?