Some nice news for Road fans from E!Online: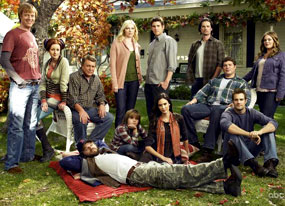 "It's been more than a year since October Road went off the air, and the season-two DVD is finally hitting shelves May 5. What's the No. 1 reason to purchase said DVD? It includes a 10-minute, never-before-seen series wrap-up that O-Road fans will drool over.
After viewing the finale ourselves, we can assure you that fans will definitely be satisfied where the Roaders ended up. The finale jumps seven years into the future, and most of the entire cast is present, except for two of the castmembers pictured left. Ruh-roh.
Instead of ruining any minute (because there are only 10!), we decided to play a little game to whet your appetites before you can watch it for yourself. So who's pregnant, who's dead and who's leaving Knight's Ridge? Of course, we can't forget the million-dollar question: Who is Sam's real father? Take the quiz below, and we may give you some answers in Monday's Spoiler Chat.