Spoilers Included
I don't know about you guys, but I found last night's Top Chef elimination kind of surprising.
While every time that Fabio opens his mouth and says something like:
"I'm 30 years old and I have to sleep in the bunky bed."
or
"There is no reason to eat vegetables when there's meat and fish around."
or
"If they're going to give me monkey ass to fill with fried bananas, I'll come up with something."
...it adds infinite entertainment value to the program, I can't help but feeling like Fabio's ship has sailed. The man has been sliding by week after week, and I am beginning to think the show is intentionally keeping him around purely for his entertainment value.
I completely disagreed with last night's elimination. Jeff was definitely in my list to make it to the end...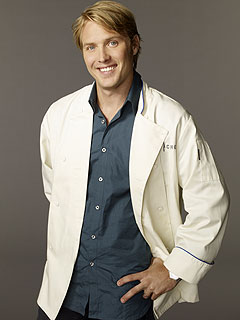 So, now that he's not here, who do you think will make the Final 4? The Final 2? We have remaining: Stefan, Josea, Carla, Leah, Jamie and Fabio. Make your predictions.
Also, check out People Magazine's interview with Jeff.
Image courtesy of bravotv.com