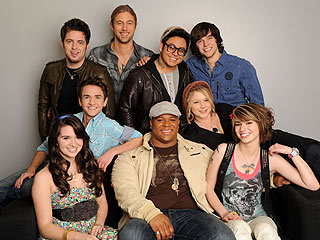 Sorry, I should have made my title more specific. By "Top 9" I meant the second edition of the Top 9, due to last week's unexpected whip-out of the save. Yay for Big Mike, boo for us having to endure another one of "Teflon Tim" Urban's awkwardly terribly performances. That cat really does have nine lives, that's for sure. Well, if we're lucky, something painfully campy like "Hound Dog" will be his swan song, if you're not blinded by his horrific attempts at hip-swiveling in the process. Oh, have I mentioned that it's ELVIS WEEK on American Idol? FML.
Tonight, the contestants will be mentored by last-season alum and runner-up Adam Lambert, who aside from his black hair and affinity for rhinestoned suits is a far cry from Elvis... Though I guess if Jamie Foxx is qualified to school singers on the Rat Pack, anything goes. While no one can deny that Adam knows the value of performance (and shock) value, I'm just not convinced he'll be able to infuse a little Glambert-style drama into anyone except for maybe Siobhan, whose knack for screaming high-notes he certainly shares. As for the others, they're either already set in their solid performance ways (Crystal, Casey) and will have to come up with a super-original arrangement to somehow adapt Elvis to their musical style, or are still too confused about their identity as an artist to have the confidence to pull off Elvis without looking like a total poser (Katie, Aaron).
I guess such creative obstacles are the point of the show at this stage of the game. However, in past seasons, in which the contestants were far more impressive as a whole, a seemingly far-fetched theme would've served to make things more interesting. The exceedingly amazing performers who would still be left at this point in the competition would then be forced to go above and beyond their comfort zones, producing even more impressive vocals they didn't even know they were capable of until confronted with the obstacle of such a difficult theme. Instead, based on the progress of the current season at hand, tonight's Elvis-themed episode will likely be another 90 minutes of boring performances (save for the handful that might actually pull it off) made borderline painful by a theme that right off the bat is screaming "singing suicide." Am I being too evil?
I hate to be a pessimist (not really), but I can already hear Randy's broken-record commentary of "It wasn't good for me, dawg," or Kara's confused "I wish you had just performed 'Straight Up' by Paula Abdul." As for Simon, he's not feeling any of it. I already know. I don't think you really need Raven-style powers of clairvoyance to foresee the disasters that are likely coming our way.
Dear Crystal Bowersox, Sioban Magnus, and Lee DeWyze: please rise above. Love, your-unenthusiastic-but-nevertheless-avid-watcher-fan, Alex.
Do you think one of the Top 9 contestants has a shot at kicking ass at Elvis Week? Or will they all crash and burn?!