Finally, True Blood returns this Sunday, June 13th at 9/8c on HBO! Truebies can't wait to find out what's happened to Bill after his romantic evening with Sookie got interrupted, and it's hard to say what will go down when Andy takes the fall for Jason's trigger-happy slip-up with Eggs. Oh, and some shirtless action wouldn't hurt; after all, for wannabe fang-bangers, True Blood is home to some of the hunkiest undead and human hunks on TV (Jason Stackhouse FTW!). But aside from being a show chock-full of turn-ons, it's also got plenty of horrific gory scenes that are sure to ruin any mood in record time. I mean, hello, it's a vampire series! Plus, it's HBO, and they don't hold back. And why should they? Vampires like blood. Vampires kill people! And they aren't neat & tidy about it. Some seriously gross stuff goes down on this show and it's not pretty, and we have to love HBO's we're-not-playin' approach to the vampire theme, which has been getting an otherwise sissy reputation due to some other popular series (*cough*). So whether you watch with unbridled enthusiasm, or have to cover your eyes in delighted disgust, you gotta appreciate the truly bloody moments that help make True Blood the most "realistic" take on the vamp phenomenon!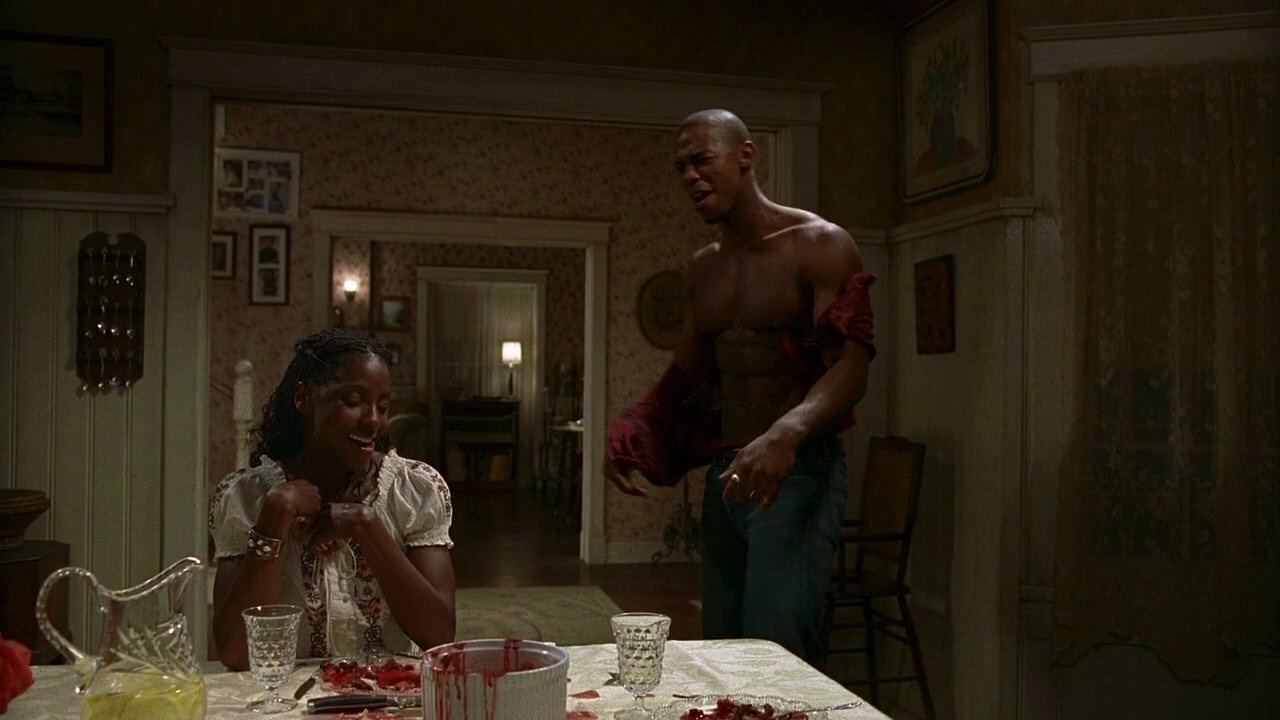 1. Maryann serves Daphne's heart souffle-style to Tara & Eggs
In the episode Timebomb, Maryann cooks up some tasty Hunter's Souffle and serves it to houseguests Tara & Eggs to further her spell-binding control over them. I don't know if it was the fact that only we knew the ingredients of the bloody concoction, or maybe it was the nasty enthusiasm with which they gobbled it up, but it easily became one of the season's gag-worthy moments!
2. Bill & Lorena have some "sexytime" in their victims' blood
It's one thing to be turned on by the idea vampires. It's another thing to actually be a vampire and submit to your desire in a bed that's soaked with your victims' blood while you're still in the middle of feasting on the poor, unsuspecting couple. It's a whole other thing entirely to have to WATCH it in the episode Hard-Hearted Hannah, and not totally lose your stomach over it in the process. Sick!
3. Dr. Ludwig treats Sookie's scratches
When Sookie is attacked by a "mysterious creature" in the woods, she is forced to pay a visit to Dr. Ludwig before the poison sets in and kills her in Scratches. The audience then gets the visual treat of watching the doctor pour steaming, gurgling ointment onto her back and then poke and dig into her bloody gashes, while Sookie elicits hair-raising screams. Yum.
4. Sookie decapitates Rene (aka Drew Marshall) with a shovel
In the season 1 finale, You'll Be the Death of Me, Sookie saves the day (along with herself and Bill) by delivering the last fatal blow to murderer Drew Marshall with a shovel. Aside from being visually disgusting, we also got the additional bonus of some sickening sound effects to match,
5. Amy kills Eddie, the vampire she & Jason have been harvesting for V
Man, just when Jason was starting to befriend the seemingly harmless vamp they've been using as their own personal V-farm in the episode I Don't Wanna Know, wild card Amy leaps out of nowhere and stakes him through the heart. A fountain of bloody goo spews forth. Gross.
6. Bill protects Sookie by stabbing Longshadow in the back -- literally
What's up with vamps spewing everywhere? When the Fangtasia bartender attempts to attack Sookie for tattle-taling on his thievery in Plaisir D'Amour, Bill's too quick for him and promptly shuts him down with a quick staking from behind. Again, spewing ensues.
7. Maryann gets gored by ...Sam?!
In the climax of the season 2 finale, Beyond Here Lies Nothin, Sam (shape-shifted into the bull form of her beloved god) gores her to death with one of his majestic horns, finally ending her hellish reign on Bon Temps. What a way to go.
8. Eric rips apart vamp-hater Royce in the dungeon
In the season 2 premiere Nothing But the Blood, while a chained-up Lafayette watches in horror, resident naughty vampire Eric dismembers his first dungeon victim, then proceeds to nonchalantly ask Lafayette if he has blood in his hair.
9. Sookie slips on a puddle of blood to discover dead Gran
Poor Gran. Poor Sookie! When Gran becomes the latest victim of the town murderer, Sookie naturally is the one to discover the body in Never Let Me Go. There aren't too many ways to discover a dead family member that are more traumatizing than slipping in a puddle of their blood.
10. Bill starts to disintegrate in the sunlight as he tries to save Sookie
I suppose it was more heart-wrenching than gory, exactly, but watching Bill slowly burn to a crisp in the sunlight while he's trying to run and save Sookie from Rene/Drew Marshall was probably the first time he truly looked... well, gross. Luckily, he was promptly buried and hid from the sun, emerging healed and "well-rested" by the next morning. Phew! That face is way too handsome to be permanently fried.
Got any other favorite vampy moments that you still have the stomach to relive? Share below!