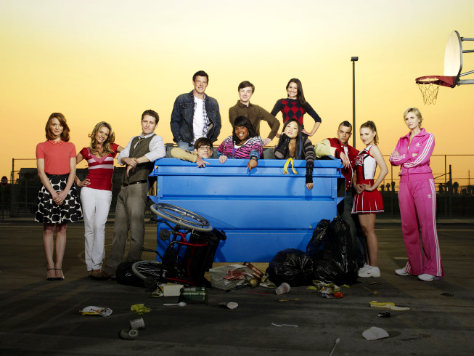 The larger-than-life characters, their multiple love triangles (which oftentimes turn into squares), the hilarity of the many politically-incorrect ways that "Sue Cs It," the melodrama of a faux pregnancy gone terribly wrong (as I'm sure most faux pregnancies do) -- the list of reasons to love Glee is practically endless. But if I had to pick just one reason I can't get enough of the show that has officially earned #1 priority on my extremely busy TiVo, it's got to be the music! By default, it's not exactly wholly original (after all, Glee is all about covers), but that doesn't make it any less AWESOME. The Gleeks somehow never fail to put a modern spin on a classic song, turn a campy show tune totally radio-worthy, or make even a recent hit sound completely unique (I actually hated Rihanna's "Take a Bow" before Rachel Berry made it her anti-Finn anthem)! And any TV show soundtrack that can make you laugh, cry, dance, and sing along, sometimes all at the same time (don't lie, I know I'm not the only one!), deserves some serious praise!
Now, you gotta hear me out. Choosing only 10 songs from a huge arsenal of hits that have not only topped the iTunes charts for the past year but have also become the soundtrack of my entire life (well, I guess 4 soundtracks now, officially) was no easy feat. I had to take many things into consideration: the impressiveness of the vocal chops, the evocativeness of the tone (watch out, I'm getting technical here!), its relevance to the show, its potential as a jam-worthy hit even out of the episode's context... while overall trying to maintain a nice well-rounded list. Now keep in mind that I also compiled this list when Idina Menzel hasn't sung yet on the show -- she's definitely a game-changer in my book! In any case, after much deliberation (& I'll admit, a little "eenie-meenie-miney-mo" action for those too-difficult decisions), I've finally come up with what I think are the top 10 best Glee songs to date, including some convenient iTunes links for easy downloading if you don't already have them yet in your collection!
10. True Colors
Tina finally gets her big solo moment in Hairography, and although Artie may not have been her biggest fan at the time, we can't help but love her!
9. Sweet Caroline
Whoa. Puck has a sensitive side? While his inner softie went right back into hiding after his guitar-accompanied solo in Mash-Up, his rendition of the Neil Diamond classic had us all swooning (okay, maybe not all of us... but I'm guilty fo sho)!
8. And I Am Telling You I'm Not Going
We love Rachel and all, but she's not all that. Mercedes is sick of her stealing her thunder and finally steps it up to stake her claim as the superior soloist when she totally kills the "Dreamgirls" power ballad (in a good way!) in the Sectionals episode.
7. Gold Digger
Heck yes, Mr. Schuester can rap! In Showmance, he finally gives his disgruntled performers some more "modern" music to perform. & in a time where Kanye doesn't have too many people on his side lately, Will puts a much more likable spin on the hit!
6. My Life Would Suck Without You
Will & Emma finally kiss. A half-season's worth of sexual tension released after Sectionals. Enough said.
5. Imagine
In Hairography, New Directions lends some helping hands to one of their competitor glee clubs in one of the most poignant moments of the season!
4. Don't Rain On My Parade -- We always knew Lea Michele had some serious pipes, but she really pulled out all the stops when she belted out Barbara Streisand's hit during a last-minute set change in Sectionals! Talk about saving the show!
3. Don't Stop Believin'
The one that started it all, this song was the very initial promising glimpse of New Directions' potential. When the Pilot preview first aired last May, this first single is all we had to hold us over until the first season officially premiered in the fall!
2. Like A Prayer
In an overall relatively underwhelming second half of the season, The Power of Madonna's choir-esque "Like a Prayer" number injected a healthy dose of much-needed energy! Ironically, this entire number was cut off from people's TiVo recordings (thanks a lot American Idol!), so if you missed it, it's a must-watch!
1. Somebody To Love
After so much exhausting and emotionally-draining glee club quits and bail-outs and drama, this performance from The Rhodes Not Taken finally brought the team back together once and for all (or so we thought at the time). It was joyous (though I guess gleeful is a better word), it was poignant, it was high-energy, & it gave viewers that much-needed guarantee that New Directions was back on-track and serious about the competition. Plus, Mercedes' ridiculous high-note alone was enough to send me straight to iTunes to get this number on my iPod, STAT!
Do you agree with my list? Don't be afraid to fight me on it if you've got a favorite I missed... I'm open to some serious Glee debate!