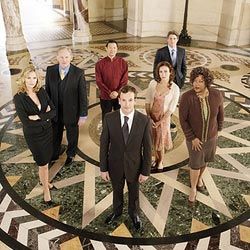 USA Today has crafted a handy dandy chart - arranged by network - listing shows that are on the bubble for renewal for next season (only 11 in total, which is a number far lower than usual).
Plenty of the programs listed as on the bubble are not surprises - we've already heard about their bubble status - including Eli Stone, Moonlight, The Unit, Shark, The New Adventures of Old Christine and Reaper.
Far more upsetting is their "Canceled, or nearly dead" category, which includes fan favorites such as Men in Trees, October Road and New Amsterdam, as well as other new shows which failed to find an audience such as Miss/Guided, Canterbury's Law and Unhitched. Presumably all of these fall under the "nearly dead" classification, as there has yet to be an official announcement regarding their status (and/or *gulp* cancellation).
One bright spot: As expected, How I Met Your Mother is listed as "Renewed or almost". Thanks, Britney.
Check out the full chart here: