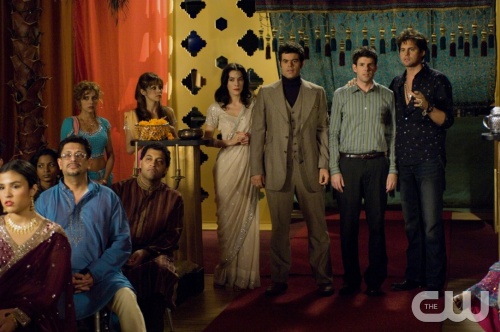 They haven't gotten all that much publicity, but don't forget that a few new series are premiering on The CW tonight.
Starting off at 7PM is In Harm's Way. The show is basically Dirty Jobs for The CW, following people that have...you guessed it...dangerous jobs. Tonight's episodes follow pro-bull riders and coast guard swimmers.
Valentine premieres at 8PM starring the always likable Autumn Reeser (The O.C.) and Kristoffer Polaha (of the short-lived Miss/Guided from earlier this year). The show focuses on couples who have missed out on finding love and the Greek Gods that work to bring them together.
Lastly, at 9PM is Easy Money, focusing on a family that runs a quick-cash loan service in a small town.
Don't forget that while these shows are airing on The CW, they are actually produced by Media Rights Captial, to whom the network has leased out their Sunday night block. Granted, this might not matter to you, but if you were wondering why the shows may feel slightly 'less CW' than the normal CW fare, you'll know why...