Well fine. After SideReel obsessed over the year's TV failures in our First Annual SideReel Flunkies (get the results here), we guess it is only fair to balance that with a celebration of TV's successes.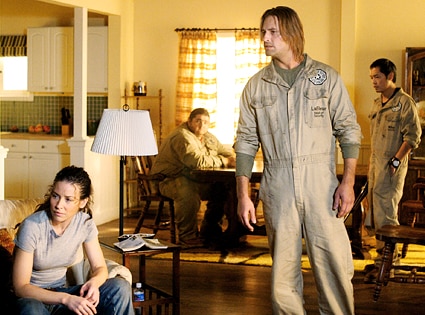 Therefore, it's our pleasure to share with you this year's official Emmy nominations, released this morning:
Drama Series
Comedy Series
Entourage (Really? For last season? Really?)
Weeds (Again, for last season, the show's worst?)
Lead Actor, Comedy
Jim Parsons, The Big Bang Theory (Yessss! Much deserved!)
Jemaine Clement, Flight of the Conchords
Tony Shalhoub, Monk
Steve Carell, The Office
Alec Baldwin, 30 Rock
Charlie Sheen, Two and a Half Men
Lead Actor, Drama
Bryan Cranston, Breaking Bad
Michael C. Hall, Dexter
Hugh Laurie, House
Gabriel Byrne, In Treatment
Jon Hamm, Mad Men
Simon Baker, The Mentalist
Lead Actress, Comedy
Julia Louis-Dreyfus, The New Adventures of Old Christine
Christina Applegate, Samantha Who?
Sarah Silverman, The Sarah Silverman Program
Tina Fey, 30 Rock
Toni Collette, United States of Tara
Mary-Louise Parker, Weeds
Lead Actress, Drama
Sally Field, Brothers & Sisters
Kyra Sedgwick, The Closer
Glenn Close, Damages
Mariska Hargitay, Law & Order: Special Victims Unit
Elisabeth Moss, Mad Men
Holly Hunter, Saving Grace (2007)
Supporting Actor, Drama
William Shatner, Boston Legal
Christian Clemenson, Boston Legal
Aaron Paul, Breaking Bad
William Hurt, Damages
Michael Emerson, Lost
John Slattery, Mad Men
Supporting Actress, Drama
Rose Byrne, Damages
Sandra Oh, Grey's Anatomy
Chandra Wilson, Grey's Anatomy
Dianne Wiest, In Treatment
Hope Davis, In Treatment
Cherry Jones, 24
Supporting Actor, Comedy
Kevin Dillon, Entourage
Neil Patrick Harris, How I Met Your Mother
Rainn Wilson, The Office
Tracy Morgan, 30 Rock
Jack McBrayer, 30 Rock
Jon Cryer, Two and a Half Men
Supporting Actress, Comedy
Kristin Chenoweth, Pushing Daisies
Amy Poehler, Saturday Night Live
Kristin Wiig, Saturday Night Live
Jane Krakowski, 30 Rock
Vanessa Williams, Ugly Betty
Elizabeth Perkins, Weeds
Get the full list of Emmy nominations over at E!Online:
Complete List of Emmy Nominations
What are your reactions to the nominations? Surprises? Snubs? What should win?