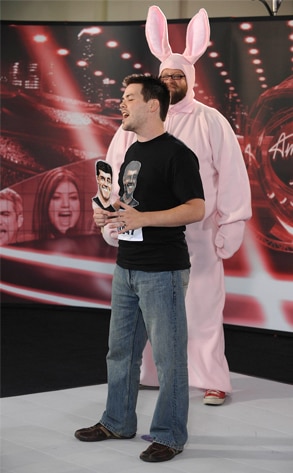 Since 27 million people watched American Idol last night, clearly many of you will be answering yes to the question I posed above, but I thought I'd better ask.
You see, I watched my first episode of Idol in quite a few seasons last week - the San Francisco auditions - and I could not have been more underwhelmed. Was it an off night? Or have all of the auditions played out like SF?
My biggest complaints:
-This is not Oprah. I feel for the sob stories of people with dying grandmothers and 5 children, but I really don't believe that people should get through to Hollywood on a pity vote, and I witnessed this repeatedly. It is reasons like this that I love a different FOX reality show - So You Think You Can Dance. On that show, they'll show you the sob stories, but won't just blindly let people through because they feel badly for their situation if they aren't deserving (incidentally, this occurred with an actual blind girl last season).
-Ryan Seacrest was almost a non-presence. Again, maybe he was having an off night or maybe he really is overextended with the 20 entertainment-related programs (including radio) that he is now associated with. Seacrest was tired and unenthused and the feeling wore off on me.
-I hated the dynamic that having 4 judges created. For one, it contributed to undeserving people getting through to Hollywood as when there was a 2/2 spilt this counted as a "yes". Secondly, if 3 voted yes then the 4th judge's opinion became irrelevant. I also already could not deal with the simulated Paula/Simon fighting, and it seemed like adding Kara will only give Simon another woman to faux-fight with.
-Seriously, where was the talent? I saw nobody of note.
So, am I totally wrong here? Was SF just an off night? Have you still been digging the 20 audition episodes of Idol this season? Are you still even watching?