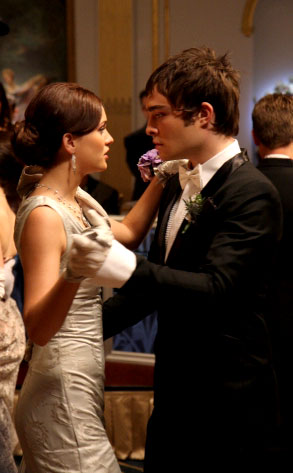 1. The "I'm Chuck Bass" line as Chuck's explanation for everything (why he deserved to host an Ivy League representative in an earlier episode and an admission that he had done many wrongs in the past tonight) is funny every time.
2. The whole Chuck/Nate/Blair "non-judging breakfast club" bit was sweet, as was Blair's reaching out to Lily.
3. Serena didn't kill anyone. What a shocker. That being said, I'm glad the "I killed someone" was quickly resolved and not, "I killed someone and dumped their body in the Hudson", because that would have been just ridiculous. I can believe that a rich kid would die from a drug overdose and I guess it's sweet that Serena was so concerned about things (though I felt like her entire response to the ordeal was completely irrational and obviously caused her way more trouble than if she had just been honest from the beginning).
4. Where's Jenny? Oh, she's "visiting her mother"...
I'm glad. I needed a break from the little J.
5. Where's Eric? He just came out of the closet and now it seems as though Lily is hiding him away from the rehearsal dinner...
6. Whoa, that really was Lisa Loeb! (Funny also, because her one hit song did come in the 90s - the theme of the VH1 show)
7. Is Vanessa paid to be Rufus's lackey or does she have a giant crush or what (she is always hanging around Rufus though...)?
8. They couldn't give Rufus a better song to sing for the one that supposedly made him famous? I thought it was awful (though it did notably improve once he started crooning directly to Lily...vomit).
9. Michelle Trachtenberg is growing on me (meaning, her ability to act).
10. I don't think Vanessa and Nate have any actual chemistry.
11. I know we all want to hate Georgina, but Dan is being pretty naive here. Serena was so clearly pained when lying to him about cheating (where are his man senses?) and Nate's "don't trust Sarah/Georgina" warning which Vanessa passed on to Dan wouldn't really make sense if Sarah/Georgina's 'abusive boyfriend' tale were true...
12. Make your bets now. Will the "I do's" actually be said at the Bart/Lily wedding next week???
Overall, I really enjoyed this episode! As you may know, I was concerned and skeptical after last week's shocker, but the show has successfully averted jump-the-shark territory.
Share your reactions to the episode and your predictions for next week's season finale below!