You may have already seen our master Summer Premieres list, but you probably scanned it thinking, what the heck are these new shows I've never heard of? Well, SideReelers, we've heard your confused queries (we can read TV addict minds, Sookie-style) and have come out with this handy Summer Shows Preview! Here's a run-down of this summer's brand-spanking-new shows, along with some helpful info including premiere dates, what they're all about, and why we think you should tune in!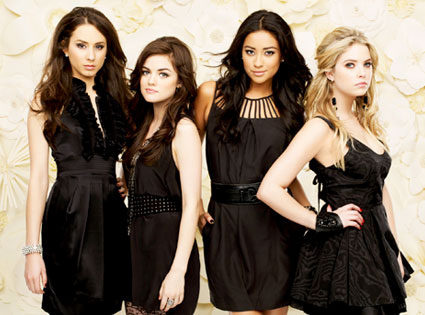 JUNE
Losing It with Jillian on NBC
Premieres: Tuesday, June 1 at 10/9c
Premise: Spinoff of NBC's The Biggest Loser, hosted by Jillian Michaels. Each episode will chronicle a week Michaels spends with a family, helping put them on the path to a healthy lifestyle.
Why Watch? If you're going through The Biggest Loser withdrawals, this show may not satisfy your competition show craving, but it will get you your Jillian-kicks-people's-butts-into-shape fix, not to mention some useful health tips you might be able to apply to your own workout routine!
The Hard Times of RJ Berger on MTV
Premieres: Sunday, June 6 at 11/10c (after the MTV Movie Awards)
Premise: Follows the hilariously-hellish lives of a deeply unpopular 15 year-old and his scheming, sex-obsessed best friend, Miles Jenner. There really isn't much excitement in RJ's life -- that is, until his anatomical gift is accidentally exposed to the entire school. In a single moment, RJ goes from anonymous to infamous.
Why Watch? Aside from looking like a Hung knockoff for high-schoolers, it looks like it's going to deliver some genuine laughs. Plus, it's a much-needed scripted break from their non-stop "reality" show programming!
Persons Unknown on NBC
Premieres: Monday, June 7 at 10/9c
Premise: Seven people are inexplicably abducted and transported to a ghost town. They have no idea what they're doing there or how they're connected, but they have 13 episodes to figure it out.
Why Watch? Sounds creepy and suspenseful, in an entertaining sort of way -- we're just hoping it will prove to be more successful than ABC's failed mystery series, Happy Town...
Premieres: Monday, June 7 at 10/9c
Premise: Revolves around the Hellmans - an all-American suburban family - that happens to hail from Hell. Balthazor, wife Tina, children Mandy and Josh and dog Pazuzu have been sent to Earth and disguised as normal suburbanites in order to help humans avoid winding up in hell.
Why Watch? It features the voices and comedic talents of notorious TV funny people, Will Sasso, Patton Oswalt, and Molly Shannon. Plus, you probably have lots of room on your TiVo...
Pretty Little Liars on ABC Family
Premieres: Tuesday, June 8 at 8/7c
Premise: Follows four estranged best friends who are reunited a year after the leader of their clique goes missing, only to realize that they're all receiving anonymous messages from someone who knows all their secrets.
Why Watch? It's the summer perfect replacement for all our drama-ridden fall favorites from The CW, especially for fans of the canceled Melrose Place (2009). And it's getting generally positive reviews so far!
Work of Art on Bravo
Premieres: Wednesday, June 9 at 11/10c
Premise: Fourteen aspiring artists, one grand prize. In each episode, contestants are challenged to create unique pieces in a variety of mediums such as painting, sculpture, photography, collage and industrial design. The weekly assignments challenge the artists' to push the limits of their technical skills and creative boundaries.
Why Watch? If you're a fan of all the Bravo competition show lookalikes (Project Runway, Shear Genius, Top Design, Top Chef, etc), chances are you'll find Work of Art worth checking out!
The Gates on ABC
Premieres: Sunday, June 20 at 9/8c
Premise: Nick Monahan and his family move from Chicago to a quiet, upscale planned community called The Gates, where he will be chief of police. They soon realize that their neighbors are not who they seem to be.
Why Watch? 4 words: Desperate. Housewives. with. vampires.
Scoundrels on ABC
Premieres: Sunday, June 20 at 10/9c
Premise: A family of small-time criminals is shaken when their father is sentenced to a long prison term, leaving his wife to take care of the criminally enterprising brood. In an effort to keep her kids out of trouble, she decides it's time for the family to go straight despite the best efforts of her kids to maintain their petty criminal ways.
Why Watch? It will be interesting to see if this remake of the New Zealand series "Outrageous Fortune" will translate to success in the US. If it's anything like the US version of Kath & Kim, it doesn't stand a chance...
Rookie Blue on ABC
Premieres: Thursday, June 24 at 9/8c
Premise: Five officers fresh out of the academy are thrown into the world of big city policing stars.
Why Watch? It's been compared to Grey's Anatomy, only in a police station... hopefully it's a winning combination!
Huge on ABC Family
Premieres: Monday, June 28 at 9/8c
Premise: Follows the lives of seven teens and the staff at a weight-loss camp, as they look beneath the surface to discover their true selves and the truth about each other.
Why Watch? I can't help but automatically think of it as a girly, dramatic TV show version of the movie "Heavy Weights." If you loved Nikki Blonsky in "Hairspray," you'll probably love her in this new series.
JULY
Premieres: Tuesday, July 13 at 10/9c
Premise: Annie Walker is a multilingual CIA trainee who joins the agency, still reeling over a mysterious ex-boyfriend who appears to be of particular interest to her bosses.
Why Watch? Sounds a little bit like Alias meets Chuck. After all, who doesn't love a little "girls kicking butt" action?
Plain Jane on The CW
Premieres: Wednesday, July 28 at 9/8c
Premise: Each episode of will follow one "Plain Jane" as she transforms via style tips, new wardrobe and confidence-building exercises to prepare for a date with a crush who doesn't know she's interested in him.
Why Watch? It sounds kind of like a Made for "ugly ducklings"... and makeover shows are awesome, obviously! Also, something about watching socially awkward people being forced to face their social awkwardness sounds delightfully entertaining. Schadenfruede, I guess!
Be sure to check back for updates as more upcoming summer shows are announced! Which NEW summer series are you most looking forward to?