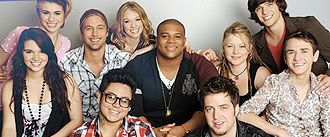 Last week, when I was knocked off my feet (and utterly appalled) with the news that Miley Cyrus was mentoring the 11 finalists (and even worse -- performing) on American Idol, my first thought was: WTF? Who next, Justin Bieber?! ...Well, I was almost right. Justin Bieber is performing on Wednesday's results show (I'm not gonna front, I'm a little excited), while his own real-life mentor Usher is coaching the Top 10 contestants in their R&B song selections for the week, starting with tonight's performance round at 8/7c on Fox.
Now let's talk seriously. Personally I'm just hoping this R&B round with serve to "Usher" Tim Urban right out of the competition... but apparently that's just me. Come on, voters! If you want to look at someone cute, google pictures of Taylor Lautner (I can send you my collection if you'd like), but if you want to watch a good vocal performance, stop voting for Tim Urban! Actually, at the rate this lackluster season is going, you might as well just stop watching altogether, but if you're hooked like I am, you know that an attempt to boycott is futile.
Anyway, I'm predicting that "I-can-do-everything" Siobhan will figure out a way to rise above, with or without her signature screaming. Oh! And Crystal Bowersox said she had "something up her sleeve" for this upcoming week, so I'm praying she wasn't just saying that to placate us and really wows us like that time she sang "Natural Woman." And while I'm a sometimes-fan of Lee Dewyze, if he performs anything remotely as mind-numbingly overplayed and lame as Owl City's "Fireflies" (WHYYYY did he do that?!), he will officially be banned from my "I Sort Of Like You" List. Banned! And maybe Andrew Garcia will just sing his magically acoustic rendition of "Straight Up" again. I mean, that's all that ever comes out of the judges' mouths any time he performs. Might as well give them what they want!
Who do you think will perform best this week? Is R&B week going to be just as disastrous as Disco week is every season? Are you only watching to see Justin Bieber? Be honest. Tell me your thoughts on tonight's upcoming episode in comments!