I consider myself a serious Real World fan (which of course also includes every Real World/Road Rules Challenge too -- are you surprised?), but sometimes I forget that I've only really been watching since Key West, which was a whopping 17 seasons in! You gotta cut me some slack, though -- the show is practically as old as I am (okay, that's an exaggeration; it's actually only as old as Taylor Lautner) -- but luckily for SideReel, I've been able to catch bits and pieces of seasons from the pre-TiVo times! And if there's one lesson to be learned from the Real World, it's that 7 (or 8) strangers in a house equals lots of partying, hooking up, and never-ending drama, thanks to every season's token instigator. After all, even if you can't stand their very on-screen presence, the most dramatic, $#!%-show roommates are the real stars of the Real World. So without further ado, in honor of New Orleans' emotional wreck man-woman hairdresser, Ryan, here are the 10 biggest Drama Queens in the history of the show:
1. Coral, Real World: New York 2
What can I say? Coral is a real-a** b****. She tells it like it is. You have something to say? She'll throw it right back in your face. You give her a dirty look, she'll smack that look right off your face. You disagree with something she says? Well, you're WRONG! However, when Real World fans everywhere deem her the roommate they most love to hate, she must be doing something wrong... or everything exactly right, depending on how you look at it.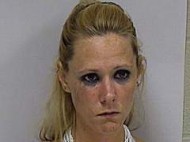 2. Paula, Real World: Key West
Svetlana was arguably the bigger "crybaby" of the bunch, but Paula packed some serious emotional baggage and belligerence to boot. Simply add vodka and Paula transforms from the baby-voiced bubbly blonde to the Incredible Alcoholic Hulk, throwing crying fits and punches left and right. It didn't help that her roommates were also insensitive towards her potentially damaging psychological problems, but unfortunately, exploitation is often the key to entertainment on this show.
3. Joey, Real World: Hollywood
Now, put someone with a real alcoholism problem -- someone that actually looks like the Incredible Hulk -- and you have a one-person recipe for drama that's even too intense for this show. His time on the RW was followed by an even more dramatic stint on Celebrity Rehab with Dr. Drew, where he proved that his problem stemmed from something much more serious than the quest for MTV fame.
4. Brooke, Real World: Denver
Don't be fooled by her sweet smile and Southern Belle accent -- this girl was cray cray. Not only did she spend most of her time hitting on the one gay guy of the house (and then crying about it), but she was also the biggest loose cannon, scaring the crap out of housemates three times her size. She's got to win some unofficial award for being the reality star most often made fun of on The Soup.
5. Tonya, Real World: Chicago
It seems like she only gets sloppier as the RR/RW Challenges progress, but it all began back in '02 when she was known for being the biggest crybaby roommate in the show's Chicago season. Seriously. She would just huddle in the corner and cry. Poor girl couldn't even catch a break -- her roommates quickly gave up on her and even made songs about her behind her back... but in the wake of the show, she earned a role in a Skinemax flick. SO WHO'S LAUGHING NOW?
6. Arissa, Real World: Vegas
Yes, like Marissa without the M. Don't get it twisted, 'cause this girl would've eff'd you up over it. She spent most of her time in the Vegas house fighting with her roommates, threatening to leave and sleep elsewhere (why sleep to begin with? You're in Vegas!), and having screaming matches over the phone with her cheating boyfriend. As she taught her roommates fairly quickly, there's no greater buzzkill than a scorned woman all up in yo face.
7. Ashley, Real World: D.C.
I never cared enough about this chick to look up her bio (most boring season ever, except for maybe Brooklyn), but one of her favorite hobbies had to have been arguing. And interrupting. And when she wasn't feeling particularly combative (ha!), if one of her roommates so much as looked at her funny, she'd have a total meltdown and start boo-hooing about her crappy upbringing. I'm sorry you've had a hard life, but you can't play the "I'm a bitch 'cause I have daddy issues" card every time you say something insensitive.
8. Ayiiia, Real World: Cancun
First of all, what kind of name is Ayiiia? A whole name made up of vowels?! WTF. Anyway, this girl was a real piece of work. Yes, it was messed up that the boys of the house had to aim so low by making fun of her deep-rooted psychological problems, but regardless, this girl was evil right down to her very core.
9. Trisha, Real World: Sydney
This Christian girl got a hell-raising rap from the second she set foot into the Sydney house. Maybe it was her snooty 'tude, or perhaps her racist remarks about a McDonald's employee, or maybe it was the fact that she pushed a roommate to the ground out of sheer dislike... No, that wasn't it, but it is what sent her packing early. Either way, this girl's outlook was "my way or the highway," and unfortunately for her, it resulted in the latter!
10. CT, Real World: Paris
I don't know if he's really this combative in person, or if he just does it for the cameras, but this dude is like a raging bull who can only see red. Seriously, does every situation lend itself to an all-out fist fight? A death match? Can't we just hug it out? I'm not gonna confront him because I can't afford a black eye on this moneymaker of mine, but someone's gotta tell him that if fame is what he wants, violence is not the answer. I mean, he gets sent home every season of the Challenge before he even gets to participate in one challenge! He really should have perfected his name-calling by now...
Do you have any favorite drama-starting former casties I left out? Share below!