When it comes to reality shows, it's often the most despicable, delusional, cockiest, or craziest people who get the most airtime and the most buzz. After all, drama sells even faster than sex when it comes to reality TV, and these unlikeable stars single-handedly prove that there's no such thing as bad press (ha!). But aside from being ostentatious and obnoxious, most of this summer's TV "villains" also happen to be downright bullies, so I'm putting these people back in the spotlight in order to give them a taste of their own medicine. So without further ado, here are the 7 most unlikeable stars on reality TV this summer season, and just what I think of them!
1. Danielle Staub from The Real Housewives of New Jersey
I actually just started watching this show from the beginning (in my attempt to marathon all the quality shows I've missed like Breaking Bad and Weeds, somehow I end up reverting back to my reality ways), and I have to say this lady sounds downright evil. I'm actually not even completely caught up on the 2nd season yet, but I just watched the episode in which she brings a whole posse of uninvited Hell's Angels to a benefit dinner and unleashes her wrath on poor innocent Chris Manzo. Who does that?
2. Spencer Pratt from The Hills
This one's pretty obvious, and you don't need to watch the show to know he's got some crazy lurking in that skull of his! He's been MIA from the past couple of episodes, but this season he's all about worshiping crystals (yes, you read that right), and mouthing off to anyone who so much as looks at him for more than 2 seconds. I mean, there must be something even more severely wrong with him than usual if even Heidi is trying to call it quits with him!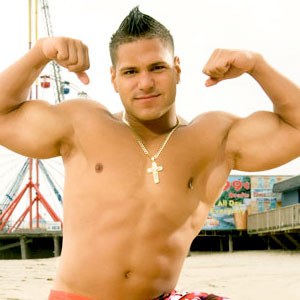 3. Ronnie from Jersey Shore
Actually, the whole cast of Jersey Shore are like my homeboys, so it's hard to say any of them are really unlikeable, but if I had to choose one, it would have to be Ronnie. I mean, c'mon. Do you really need to start a fight with everyone you cross paths with? Do you really need to only hang out with Sammi Sweetheart and ignore all your other roommates? "Like Ronnie, you traumatized me tonight, like honestly Ronnie, like stop."
4. Erin Kaplan from The City
I'll be honest. I don't watch The City. I've never even seen one entire episode. But I do watch enough MTV to see plenty of promo clips, and this chick has just about the biggest collection of evil glances I've ever seen! After all, MTV loves their reaction shots, and this girls' always reek of eau de bitch.
5. Kasey from The Bachelorette
Spoiler Alert: he's already been eliminated this past week, but it couldn't have happened soon enough. From his bizarre frog voice to his creepy acts of total desperation (a tattoo?! REALLY dude?), I couldn't stand the guy. While Justin the Wrestler is the one suitor who has been demonized the entire season, somehow the strategic editing found time to give him a break and focus their efforts on making Kasey look like the House Crazy. I'm sure he didn't need much help with giving off the stalker vibe!
6. Liz from True Beauty
Let's face it -- none of the contestants on this show are particularly charming, so selecting a winner at the end ultimately seems futile to me, but when it comes to being despicable, this chick definitely takes the cake. She seems to be just about the most self-absorbed person I've ever witnessed on a TV show of any nature (no joke!), and the only thing that seems to spare her is the fact that she's so ridiculous that you just have to assume she's just not all there mentally. Why she hasn't been eliminated yet is beyond me, even if it's just on the grounds of being a total bee-yatch!
7. Angelo from Top Chef
Now I know it's still early in the season. In fact, it's too early for me to even be able to tell the contestants apart yet, but Angelo is the one I already know by name and reputation. Why? Because he's super cocky. Sure, when you win both the first Quickfire AND the first Elimination Challenge, you have reason to be proud, but something tells me he's more than just confident. Yes, the season's jerks do win sometimes (season 3's Hung, for example), but that doesn't mean I have to like him if he continues to act like his garlic don't stink.
Which summer reality show stars get on your nerves the most? Share below!