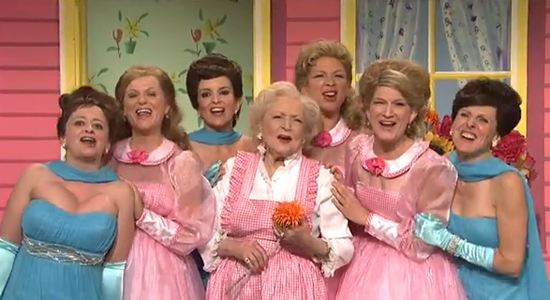 It's no news that Saturday Night Live has been hurtin' in terms of quality content lately. In fact, the show's main attraction is hardly even the comedy itself anymore, because, well... the laughs are definitely lacking. For the past season, the show has seemed to serve more as a chance to watch certain celebrities crash and burn (ie: Ke$ha), to see if a guest SNL alum will magically take the show back to its old higher standards, or to find out if Taylor Lautner really will take his shirt off for the sake of "comedy" (he didn't -- I'm still pissed). In some cases, most of the unenthusiastic chuckles come from how awkwardly terrible some of the skits are, or just how desperate the comedians are to get a laugh. No, scratch that -- to get a reaction. Any reaction. Seriously. Have you seen that one recurring sketch with the overly-affectionate family that just makes out with each other for the duration of skit? Am I supposed to be giggling or gagging?!
The short of it is, as the rest of the editorial team and I concluded over our morning recap chat, the show is (and always will be) only as good as its writing. You can equip yourself with as many celebrity comedy kings or past SNL superstars that money can buy, but there's only so much "funny" you can inject into base material that's just plain lame. This theory couldn't be demonstrated any more perfectly than it was this past weekend. Much-anticipated funny-girl legend Betty White in cahoots with an arsenal of former SNL favorites (Molly Shannon, Maya Rudolph, Rachel Dratch, among others) certainly served as an improvement from that god-awful Ryan Phillippe episode a couple weeks back, for example, but it wasn't... good. Don't get me wrong, I elicited a few willing LOLs, and MacGruber was actually entertaining for once with some added Betty flavor, but most (if not all) of the episode's comedic value relied solely on the fact that it was a sweet old lady making sexual innuendos. Sure, it's kind of funny, but if I really wanted to be entertained by an hour-and-a-half's worth of old lady crassness, I'd just sign into my old AOL account and read some nonsensical e-mails from Grandma.
Personally I think Betty's a lot funnier than the material gave her credit for; in fact, I much preferred watching her Snickers commercial cameo from the Superbowl, which they conveniently re-played during commercial breaks last Saturday. What did you think of the Betty White episode? Did you think it showed some promise for the future of the show, or does it just prove that SNL is plummeting farther and farther downhill? Weigh in below.