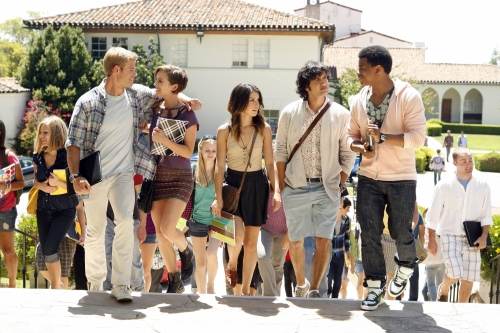 90210 is back and the season finale last year was a great one that left many questions up in the air. The most surprising revelations was when Naomi was raped by Mr. Cannon, Jasper burned down Liam's boat, and Ivy and Dixon's new discovered relationship. Just like Gossip Girl, the premiere takes off after the summer's end. So it gives us a good update as to what has been happening since these events.
I believe that is a strong way to start a season especially since this season in particular is in the senior year of high school. You can only assume that this season's finale will probably be prom. Annie's life has definitely turned around and Dixon now has some competition from a new friend of Ivy's. And I must say this new cast member named Oscar is a spitting image of a young Johnny Depp. Good choice CW!
The Javier/Audrianna relationship issue comes to a head when Javier gets killed in a car accident and the whole episode is rocked by an earthquake. The rape has negatively effected Naomi to the point that she now looks at sex like a casual non decisive pass time and is caught dancing in her skimpy's for a crowd by Silver's boyfriend Teddy. Being a good guy he kicks all the guys out and tries to talk to Naomi, big mistake because drunken Naomi decides to ask Teddy if he wants to have sex with her while she hangs off him. Of course in any show this is where the girlfriend walks in and it was no different in this episode. Things are definitely going down hill there.
Author: bridgwilson