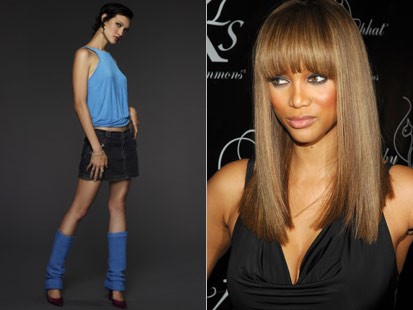 This week on ANTM:
Apple Bottoms. Mystery Makeovers. Boat-os (aka photos on a boat). Who goes home?
Allison the terrible.
Some thoughts and reactions:
-This week we had product placement galore. They didn't even try to incorporate the Apple Bottom stuff...the bags just appeared there. We also got showered with ads for Walmart, Covergirl (as expected) and Elle Macpherson's lingerie.
-Fatima clearly was just stirring up trouble when she told Allison that she was "bigger in general" - though this kind of was an objective fact (I think Fatima looks too skinny anyway, so I don't think Allison should have been so offended - just because one person is bigger than another does not exactly make them fat). At any rate, Allison took this episode as license to make ignorant and racist remarks when playing with dolls (was there any doubt in any of your minds by mid-way through this episode that Allison would be going home?).
-Finally, on the 10th cycle of ANTM, Tyra mixes things up, and brilliantly prescribes "mystery makeovers" to everyone. In all honesty though, this was a relatively boring round of makeovers (Marvita didn't even get upset about her horse mane, which was potentially the most controversial alteration). No screaming. No tears. Initial reaction: I thought they made too many of the girls into platinum blonds.
-I like Claire a lot, but I'm so sick of all of the "I'm doing this for my baby" comments that we get every season. Doesn't anybody want to be a model for them self anymore? I also think I liked her dark hair more, but what do I know?
-I hate to say it, but my favorite makeover was Fatima's. Her weave looked awesome. Also, was anybody else amused by how Fatima defined the weave as "the most painful experience", considering the other life experiences she has had (you know which one I am referring to...).
-Elle Macpherson did seem kind of disgustingly nice. Creepily so, almost.
-Dominique needs to go (sorry).
-Has anybody ever noticed how sensitive Nigel is? Of all of the judges, it always seems to be him that gets all offended by the girls being "rude" to him (Caridee, Jenah, to name a few). I agree that Allison should have said "thank you", but I think that her "I know" in response to the "You look so soft and pretty" was not quite as bad as Nigel made it out to be ("I know" can sometimes serve as a playful substitute for "thank you", though it wasn't really appropriate here). Interestingly though, I thought that Allison looked better with the darker hair.
-Was anybody even the slightest bit upset about Allison's departure? I didn't think so. After the doll episode, those editors went crazy with portraying her in the absolute worst light possible. I think that girl needs to find a new career path...