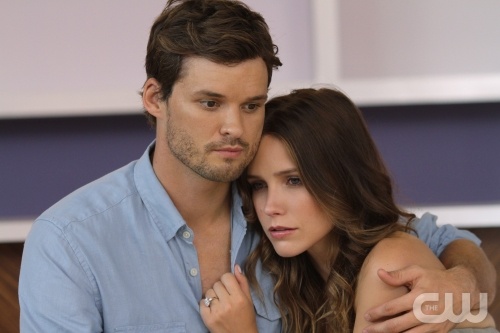 Thank goodness this show is back! Even though some have predicted that this show was not going to be making it into its eighth season, I am glad that they were wrong. And despite the loss of two of the starring roles (Lucas and Peyton) the show is starting off to a great start.
The finale of One Tree Hill last season left most of the viewers astonished. I do remember however that it had a very slow start and actually didn't have any surprises or twists until the final few minutes of the show. But at the beginning tonight we get to see a moment where I thought this show made a huge mistake. We enter into the scene where Quinn gets shot and then Clay awakes from a bad dream. Really? Are you kidding me? I kept telling myself that I hope this is a coma state and the show didn't add all this drama for nothing.
But in the end I was right they were shot and we as viewers still do not know their state. There was a lot of humor added to the show I noticed tonight and I think this episode is a great start for the season. With Mia trying desperate to win back her old boyfriend Chase, Alex makes it clear that it is not going to happen. Brooke gets arrested tonight and it looks like her business is going down for good.
With all these stories in place there is still more – Hayley's pregnancy. We all have seen Hayley loose her mind in the previous episodes, do you think this pregnancy is just all in her head? I think it is a strong possibility. But I guess we will have to find out. I look forward to seeing what else is in store.
Author: bridgwilson